Simple, Affordable Furnace & Air Conditioner Rentals Without the Headaches
➨ Flexible Credit Approval – Most homeowners accepted!
➨ Save money and slash your heating & hydro bills by up to 45%
➨ High-efficiency ENERGY STAR-certified systems available
➨ Free professional installation by licensed technicians
➨ Qualify for government rebates – we apply for you! (if available)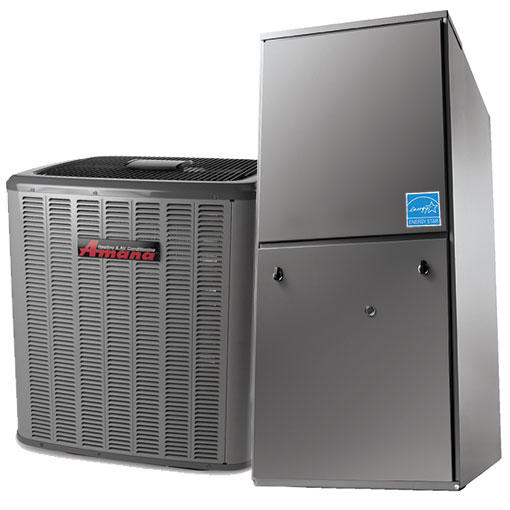 Limited-Time Offer:  SPECIAL! Get a FREE $50 Visa Gift Card with a furnace or A/C, OR a FREE $100 Visa Gift Card with a furnace & air conditioner COMBO! (be sure to mention offer code HAPPY100)
What Our Customers Are Saying
Our 19 year old furnace broke down while it was -25 outside. Surprised by how simple the process was. We were able to get it replaced with a brand new one the following evening.

The whole thing was a breeze from start to finish. Our old furnace would break down all the time so it's nice knowing repairs are covered with the rental program, just in case.

We've had our furnace break down multiple times, so the lifetime warranty really appealed to us. They took out the old one and installed the new unit in one afternoon. Fantastic service!

Upgrade your home's heating and air conditioning with no upfront costs and predictable, affordable payments
Get started in minutes and have your new system installed as soon as the very next day

ZERO Upfront Costs
No down payments required; all you pay is one low monthly rate.

Lifetime Warranty
Full coverage worry-free warranty covers parts and labour, meaning you never have to pay for costly repairs for the duration of the rental!

24/7/365 Service Calls & Annual Maintenance
If anything ever goes wrong, we'll be there to fix it in no time, at no charge. Includes complementary annual multi-point inspection & maintenance.

Own Your Equipment
At the end of the 10-year term, you own your unit free and clear.

No Penalties, Hidden Fees or Surprises
Buy out your unit at any time.

Fully Transferable
If you move, easily transfer the unit to the new homeowner.
CANADIAN OWNED & OPERATED 
Furnace Rental Proudly Serves Homeowners From Toronto & Hamilton to Ottawa, Vancouver and Beyond…
We service just about every major city and town across Ontario, and other major cities across Canada.
Don't see your area listed below? Give us a call and we'll do our best to help!
Toronto, Ottawa, Hamilton, Barrie, Brockville, Trenton, Belleville, Brantford, Chatham-Kent, London, Cornwall, Kingston, Trenton, Napanee, Cambridge, Stratford, Renfrew, Oakville & Halton, Mississauga & Peel, Markham & York, Burlington, Oshawa & Durham, Guelph, Kitchener & Waterloo, Stratford, Muskoka, Peterborough, Kawartha Lakes, Petawawa, St Catharines & Niagara Falls, Pembroke, Norfolk County, Woodstock, Leamington, Windsor, Sarnia, North Bay, Sudbury, Timmins, Sault Sainte Marie, and Thunder Bay.
~~~
Please note, we DO NOT go door-to-door. If anyone came to your house saying it was on our behalf, they do not represent our company.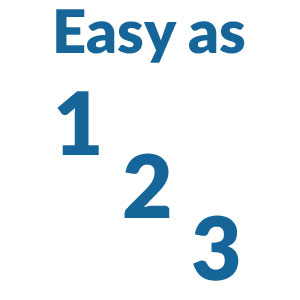 Thanks to our full-service furnace rental program, upgrading your heating and cooling system is as easy as 1-2-3! The entire rental sales process and getting started is fast and effortless!
Simply let us know what type of system you're interested in (furnace, AC, ductless mini-split, etc.) and our experienced experts will help you select the model that's right for your needs.
Next we book an installation date at your convenience, which can sometimes be as soon as the very next day… or whatever works best for you.
We take care of the rest! Sit back and enjoy efficient and reliable heating and cooling, as we handle everything from removing the old unit and installing your new system.
At Furnace Rental, we provide quality you can count on with products from only the best and most reliable brands like Amana and Goodman.
The benefits of air conditioner or furnace renting vs. buying
➣Zero Upfront Costs
All our rentals come with free standard installation and we'll even dispose of your old unit if necessary at no extra charge. We've carefully designed our program to be as quick and effortless as possible, with no upfront costs or headaches.
➣Complete Peace of Mind With Our Full-Coverage Protection Plan & Warranty
And with our rent to own furnace program, you also get the complete peace of mind that comes with our Full-Coverage Protection Plan, which is included at no extra cost. This means you never have to worry about costly repairs and if the unit can't be fixed, we'll even replace it with a brand new one at no charge!
➣Year-Round Emergency Service At Your Disposal
Our highly-trained technicians are on call 24/7/365 so you'll never be left scrambling to repair a broken down furnace in the dead of winter. And our free annual maintenance and multi-point inspection will ensure your furnace always operates smoothly and efficiently.
➣Flexible Approval
We believe eco-friendly and energy-efficient heating and cooling options should be available to everyone, so we try to offer accessible plans for the average homeowner. No down payments necessary either. As long as you're the homeowner, you'll qualify in most cases! If you rent your home, all you need is the owner's written consent.
All of our furnace rentals are on open agreements, meaning you're never locked in and you can buy out the unit at any time without penalties.
See a full comparison of renting vs buying your furnace or air conditioner here.
Why Rent?
Click the short video below to find out why thousands of homeowners across Canada are are choosing furnace rentals for their home or business:
Rent With Confidence – Top-Tier Brands Like Amana & Goodman
Our rental program features some of the most reliable furnaces on the market. Both Goodman and Amana are renowned for their reliability and feature what is widely considered to contain the best heat-exchangers (one of the furnace's most vital components) in the industry.
And installation is done by our experienced, licensed & bonded local technicians so you can rest easy knowing the job is done right!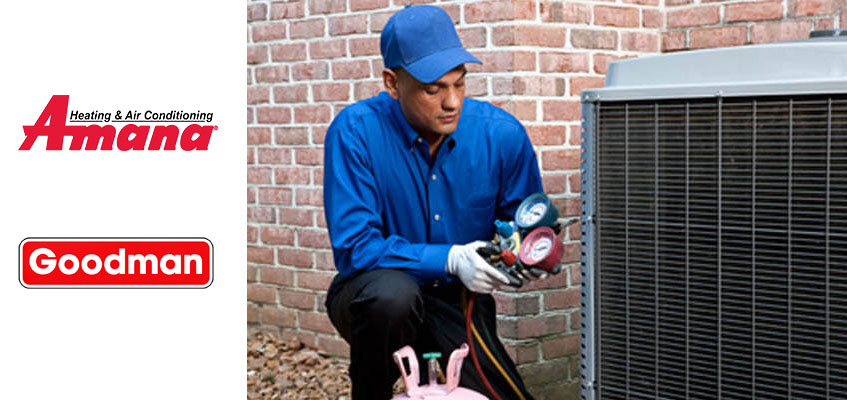 Goodman – Goodman, among other things, has become known for the superior comfort they offer for residences. Have you ever had a furnace that when started up blows cold air into your home before it gets warmer? With our variable speed Goodman furnaces that slowly ramp up to match the temperature you program into your thermostat you will never have to suffer through cold air to get the warmth you need. We carry Goodman furnaces that offer up to 98% AFUE ratings. Learn more about Goodman furnace and air conditioner rentals.
Amana – One of the main reasons we offer Amana gas furnaces and central air conditioners through our rental program is that this company really knows how to build a solid and reliable furnace. The heat exchanger of a furnace is often the most problematic component but Amana engineering has addressed this common problem by equipping their furnaces with durable stainless steel tubular heat exchangers. This coupled with our service program will ensure you never have to worry about your Amana unit.
Conclusion: Why get a High-Efficiency Furnace or A/C Rental?
There are few downsides when it comes to renting a high efficiency furnace because you will save money with rebates and a lowered monthly utility bill, have better and more reliable heating for your home
And you will never have to worry about your unit breaking down on you with our full-coverage worry-free lifetime warranty!
It is really the best way to go and it is so easy to get started.
Current Promotion
Limited-time offer (call for eligibility and details):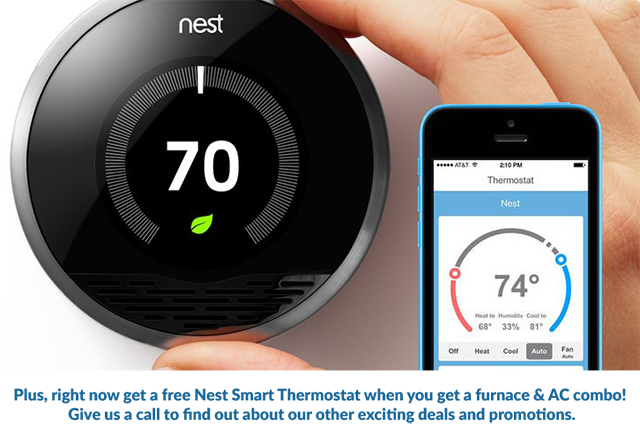 (Cannot be combined with any other promotion or discount)