Union Gas spans a wide swath across Ontario. That's why homeowners in these areas can count on FurnaceRental.com to provide affordable low-cost ENERGY STAR natural gas furnaces with our furnace rentals, available to homes in Union Gas service areas.
Note that although our services are available to Union Gas customers, FurnaceRental.com is not affiliated with Union Gas Limited.
What is Union Gas?
Union Gas is a natural gas utility company, meaning that they own and operate the pipelines and infrastructure that delivers natural gas to homes and businesses in regions across Ontario. Union Gas is a subsidiary of Enbridge.
Union Gas is one of the top utility companies in Canada. Servicing over 1.4 million residential, industrial and commercial facilities in over 400 communities, this Ontario-based company offers over 100 years of experience to its customers.
Originally founded in 1911, Union Gas is the result of a merger of three gas companies and was recognized as one of Canada's top 100 Best Employers in 2016. The company has assets over $7.2 billion and employs approximately 2,300 people.
Union Gas is located in Sarnia, Ontario and serves over 400 communities in Ontario.
To find out if there is service available in your area simply click here
For Ontario homeowners who are in Enbridge territory and want a furnace rental, see here.
What is FurnaceRental.com?
FurnaceRental.com offers rent to own natural gas furnaces, which are available to homeowners and businesses who have access to natural gas service in their area. If you are located in a rural area without natural gas service, you may opt for a propane furnace rental.
Are Union Gas and FurnaceRental.com related?
No. FurnaceRental.com provides the furnace, while Union Gas supplies the natural gas that the furnace runs on. They are separate companies.
To use an analogy, FurnaceRental.com is like a car dealer, while Union Gas is like the owner of the gas stations where you fill up your car.
Upgrading your furnace with Furnace Rental. No money? No problem!
Unfortunately, there isn't always money available to upgrade to newer and more energy efficient systems. Luckily, there is a way for homeowners to still be able to take advantage of lower energy bills and energy rebates no matter what they have in their bank account. In fact, even those with good, bad or low credit are automatically approved as long as they own their home.
With Furnace Rental, all you pay is a flat monthly rate starting as low as $65/mth for a new high-efficiency gas furnace rental, for Ontario homeowners in Union Gas territory.
FurnaceRental.com's rent to own program has nearly 100% acceptance regardless of credit situation.
Furnace Rentals – An affordable heating solution for Union Gas-area homes
Seem too good to be true? Luckily it's not. Instead of purchasing your new furnace or air conditioner, you are now able to rent the units. That means for a nominal fee you not only get a brand new high efficiency furnace and or air conditioning system, but you get the peace of mind that comes with included maintenance and service.
Don't be afraid to breakdown
By choosing to rent instead of buying your new system, Ontario homeowners in Union Gas service areas no longer have to worry about middle of winter furnace breakdowns or trying to find someone to fix your air conditioner in the middle of during a heat wave. Instead you have emergency priority servicing.
So while others are placing call after call to find a solution to their heating or cooling issues, you make one call to schedule a repair person to come to your home free of charge. If the unit is unable to be repaired it will be replaced, for free!
Annual Maintenance for Your Gas Furnace
In addition to repair service, your rental includes maintenance and inspection by FurnaceRental.com. That means that you can have your unit regularly cleaned and maintained to keep it running as efficiently as possible. When was the last time you gave your current heating or cooling system a check up?
A great tool for business and property owners
The worst thing for a family or business budget is a large unexpected expense. Unfortunately, these big costs tend to happen at the worst times. By renting a brand new heating and cooling system, you can knock two worries off your list and help keep your budget balanced all year long.
A built in predictable heating and cooling cost is a great tool for business and property owners. The ability to be able to build an annual budget without the worry of unexpected heating or cooling costs is invaluable.
Instead of wasting countless business hours trying to price compare, service and maintenance scheduling calls can easily be handled by office managers.
Property owners are easily able to build the rental costs into their monthly rent. This gives the benefit of lower energy bills for the tenants as well as an easy way for both parties to feel secure that any issues with the equipment can be serviced quickly and easily.
Want to lower your energy costs?
With costs rising and budgets getting tighter and tighter, many property owners are interested in lowering their energy bills. Natural gas is safe, clean and reliable. While the cost of living has soared in the last 10 years, natural gas rates have actually gone down. By switching to natural gas you can save up to $2500 a year compared to oil, propane or electric heat. Those savings could go even higher with the introduction of natural gas appliances such as barbecues and stoves.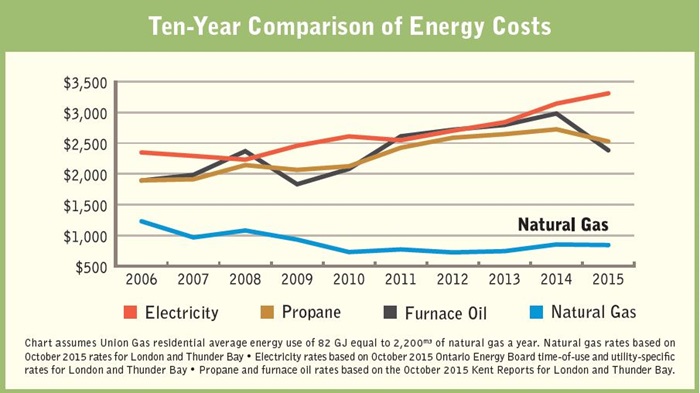 Add value and get paid for it
With Ontario's rising energy costs, properties with high efficiency heating and cooling systems are more attractive to buyers. Adding a new furnace or air conditioning system with no money down is an easy way to add value to your home. The best part is the rental agreement is easily transferred to the new owners so they will be able to receive the same benefits.
In addition to adding value to your home, a high efficiency heating or cooling unit may qualify you for government rebates of up to $650 for replacing your furnace and AC, PLUS up to $2500 from Union Gas (conditions apply). Request a quote for details
Often these rebates can be applied for on your behalf but certain criteria must be met, including possibly an inspection before installation of the new equipment. See what you can qualify for.
Why not give us a call?
Still not convinced? If you're a Union Gas customer, then FurnaceRental.com's affordable rent to own furnace program is available in your area! Why not take two minutes out of your day to find out how exactly you could benefit from upgrading your heating and cooling system to a low-cost rent to own system?
It only takes a couple of minutes for a call that could save you money, increase the value of your home and even put money back in your pocket from the government. What do you have to lose besides sky high energy bills and a rusty, dusty furnace and air conditioner?
The sooner you call the sooner you can start to save!